FlameAde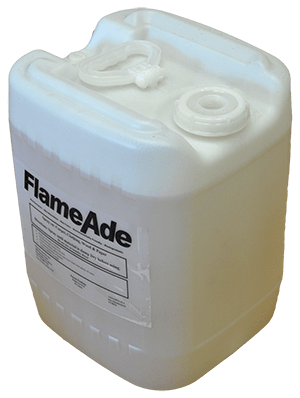 FlameAde is a fluorine free fire retardant which prevents fabrics and a wide variety of other material from burning. FlameAde reduces the danger of fire, limits fire-related damage to property, and minimizes possibility of burns and other fire-related injury. FlameAde is not made of boric acid, does not stain or stiffen, and washes clean with water. Class A materials treated with FlameAde meet NFPA 701 standards for Test Method 1. Class A materials treated with FlameAde meet ASTM E-84 Flame Spread Class "A". Apply FlameAde by sprayer to dry brush, grass, trees, untreated wood, and other surfaces to provide prolonged protection against flames, singeing or ignition by embers. FlameAde can be used to create a fire break when applied correctly. Apply FlameAde to dry materials until materials are damp. FlameAde is effective when the treated material has dried. After rainfall and once material has dried, reapply FlameAde. FlameAde is not a concentrate. Add FlameAde directly to sprayers to apply. 1 gallon of FlameAde treats up to 360 sq ft of natural material. 1 gallon of FlameAde treats up to 300 sq ft of synthetic material.
Features
FlameAde is currently used in entertaiment for movie sets and theatre settings. FlameAde can also be used around the house on curtains, furniture, and carpets.
Application Notes
The product is designed for material that will absorb water. On natural fibers, cotton, for example, FlameAde will penetrate the fiber. The application is usually accomplished by spraying. The size of the sprayer is determined by the amount of material to be treated. On man-made fiber like Nylon and Polypropylene, the fibers resist penetration and a richer solution, 12 to 14 percent of dried weight will be required. One gallon of FlameAde will treat approximately 360 square feet of natural material or 20 square feet of a synthetic.
FlameAde is applied in a light mist. When the fabric is moist, the application is completed. With cotton, the desired damp feel can be achieved by spraying on just one side of the material. With synthetic fiber that resist penetration, it may be necessary to apply FlameAde to both sides. Once the material has been allowed to dry completely, FlameAde's flame retarding power will be ready for action.
Certifications
Class A materials treated with FlameAde meet NFPA 701 standards for Test Method 1. Class A materials treated with FlameAde meet ASTM E-84 Flame Spread Class "A".
SDS Sheet
As a Customer, you have access to excluive content.
Sign up or log in below.
Customer Login
What It Does
FlameAde interrupts the cycle of fire by preventing the breakdown of a potentially flammable material. It reinforce the material's molecular structure, keeping it intact and preventing the release of gases that feed fires.
FlameAde should not be used on 100 percent silk materials. When applied on cotton, rayon and many fabric blends, FlameAde renders these fabrics nonflammable. The flame-retardant characteristics of a treated fabric will last indefinitely. It will not be affected by dry cleaning. However, if washing in water is required, the fabric should be sprayed again with FlameAde and allowed to dry. This process will immediately restore the product's effectiveness.
Please contact Enforcer One, LLC® for more information.
Contact Us