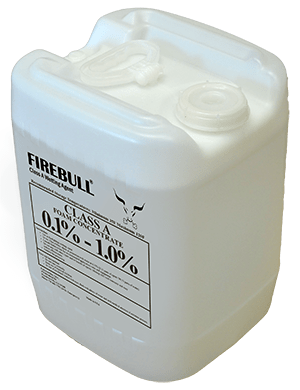 Environmentally formulated FIREBULL Class A Foam is the newest generation in nonfluorinated foam. FIREBULL Class A Foam contains ZERO hazardous materials in the formulation; it will not clog, gum, or corrode foam systems and equipment. This environmentally formulated concentrate implements a dramatically changed chemistry compared to most foams. This chemistry enables FIREBULL Class A Foam to be used in all types of foam portioning systems, compressed air foam systems (CAFS), in-line eductors, and standard foam equipment. FIREBULL products are fluorine free and contain no intentionally added PFAS. Enforcer One, LLC.  declares that there are no persistent organic pollutants (POPs) in the sourced constituents used in FIREBULL Fluorine Free Foam Concentrates produced for our customers. To our best knowledge, the components/parts are in compliance with the POPs Regulation and do not contain substances subject to prohibitions listed in Annex I to Regulation (EU) 2019/1021 and amended 2020/784/EU.
Applications
Grass fires and Initial Structural Knockdown:
0.10% - 0.25%
Tire Fires, Landfill Fires, Coal Fires and Wildland Fires:
0.25% - 0.50%
Car/Vehicle Fires and Overhaul:
0.50% - 1.0%
Application Notes
Recommended to set foam system defaults between 0.25% and no more than 0.50%
Compressed Air Foam Systems (CAFS) should be calibrated using a foaming solution under 50 cps for accurate calibration
Compatibility
Compatible with other brands of foam as finished foam.
Compatible with other FIREBULL products as a concentrate.
Flushing Instructions
It is recommended to flush all Class A foam tanks if possible. If not, use as much of previous Class A foam, then add FIREBULL concentrate. Mixing with most Class A foams will not cause harm to systems.
SDS Sheet
As a Customer, you have access to excluive content.
Sign up or log in below.
Customer Login
Physical Properties
| | |
| --- | --- |
| Appearance: | Natural Amber |
| PH: | 7.5-8.5 |
| Viscosity: | 20 cps |
| Min. Storage Temp: | 35°F (2°C) |
| Max. Storage Temp: | 120°F (-49°C) |
| Effect of Freeze/Thaw: | None |
Shelf Life
FIREBULL Class A foam has a 20 year shelf-life.
Please contact Enforcer One, LLC® for more information.
Contact Us